This post may contain affiliate links, which means I'll receive a commission if you purchase through my links, at no extra cost to you. Please read full disclosure for more information.
So you have gathered all of the art you like that would go really well with your interior, read every article on creating the perfect gallery wall, and are ready to apply what you have learned, but something just doesn't feel right? You might just have to break some of the rules you have learned and add a little bit of spice to your gallery wall design.
Read on to see what rules you can break and how.
Don't frame just pictures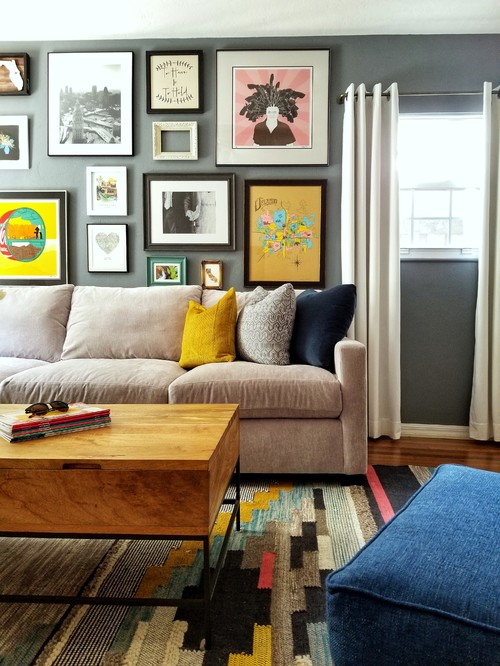 You can frame anything, not necessarily just posters and pictures. Some other things you can frame are textiles, small rugs, or even architectural elements.
For example, if your wall has a feature that you cannot get rid of, such as a light switch, you can add a frame around it and make it a part of your gallery wall. This way, its placement will look intentional and less bothersome.
Something else you can do with a gallery wall is add an empty frame, like in the image above. As you can see, there are no rules. Just be creative and try a lot of things to see what works.
Have 3D objects mixed in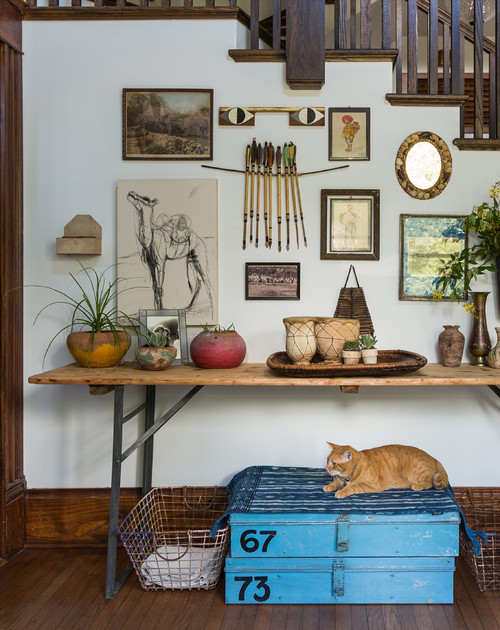 You can mix in so many objects to add dimension and get an eclectic look. Some objects to layer are plants, mirrors, wall clocks, wall sculptures, light sconces, or ceramics. You can even go for items that represent your hobbies, like items from the places where you traveled. Just make sure it looks cohesive and have fun with it.
Don't hang all of your art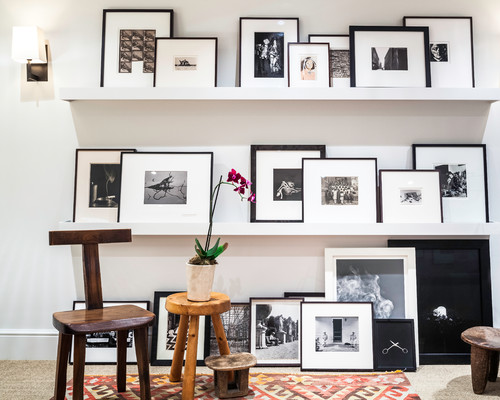 Rather than hanging everything, try propping a few pieces against a wall, in order to get a layered look. You can even have a few elements placed on a wall, and in between them, add a few small shelves and place some of the artwork on the shelves.
Mix up the frames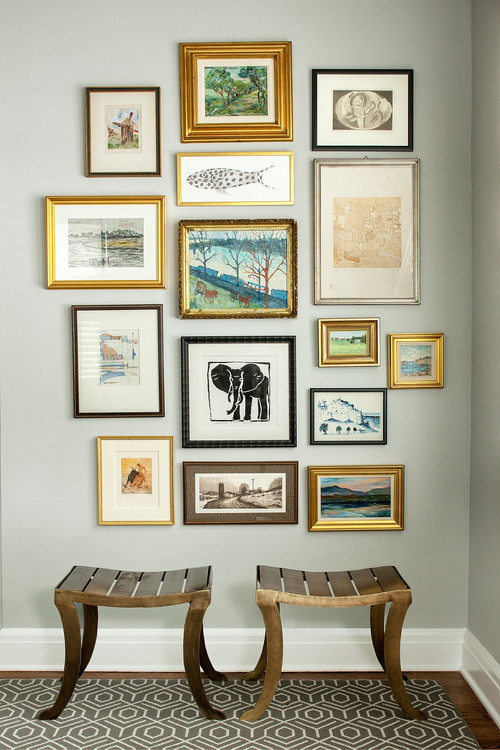 Add variety to your gallery wall by mixing up the frames. Go for frames that are a different style or color for a dynamic look. Use frames of various sizes to break up the monotony. The possibilities are endless. Just make sure to keep everything looking cohesive.
Add artwork around the television
The TV is one of those items that are necessary, but not amazing to look at when not in use. Unless, of course, you plan on doing a gallery wall around it. Treat the TV as the focal point of the gallery wall, and add art around it the way you normally would add art around a big painting.
Or, you can even get a Samsung The Frame TV, that allows you to display art from multiple galleries around the world when you are not watching TV.
Did you enjoy this article? Read more!
---
No comments to show.